Teeth Whitening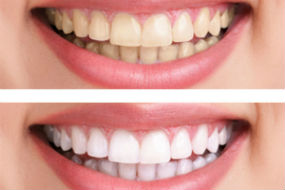 Today's teeth whitening treatments are so easy, convenient and affordable that they've become a regular part of everyone's beauty routine. If you haven't tried one yet, you'll be happy to know that you have plenty of choices. For the fastest, most dramatic results, consider laser teeth whitening. Laser teeth whitening treatments take just an hour and can whiten teeth up to 10 shades. If you're the do-it-yourself type, an at-home teeth whitening kit might be right for you. These professional grade teeth whitening kits produce excellent results over a longer period of time. They can be purchased from your dentist or over-the-counter, but for best results, it's recommended that you always consult with a dentist before trying any over-the-counter teeth whitening system.
Sinsational Smile®
Sinsational Smile® uses a fast and effective technology with our patented pre-filled silicone tray. This allows the jaw to remain relaxed and the person comfortable throughout the 20 minute procedure. This procedure includes the use of an LED accelerating light that helps to activate the gel's whitening ingredients at a faster rate, resulting in a brighter smile and whiter teeth in less time. As part of your procedure, you'll also receive a take-home maintenance pen shown below to further extend your new brighter smile!
The number of treatments necessary will vary based on your need and color preference. On-going whitening treatments may be repeated on a scheduled basis to maintain and rejuvenate your smile. Though most people will notice a big difference after only one treatment, additional treatments could be necessary to achieve the sparkling white teeth you desire.
Smile Makeover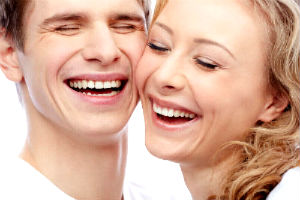 Tired of masking your smile because you don't like the way your teeth look? A smile makeover can be a big boost to your confidence and self-esteem. With a total smile makeover, chipped teeth, cracked teeth, gapped teeth, crooked teeth, stained teeth and gapped teeth can be completely transformed into the smile of your dreams. This is done through a combination of restorative and cosmetic dental treatments, including white fillings, cosmetic dental bonding, porcelain veneers, cosmetic dental crowns, dental braces, dental bridges and dental implants.
Cosmetic Dental Bonding
Cosmetic dental bonding is a versatile and affordable way to improve the appearance of chipped teeth, stained teeth and gapped teeth. As one of the most conservative cosmetic dentistry treatments around, cosmetic dental bonding requires little to no prepping and preserves most of the natural tooth structure. And it's fast, too! Dental bonding usually takes just one visit to complete.
Porcelain Veneers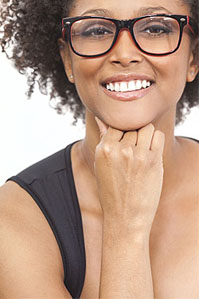 Years ago, smile makeovers involved multiple dental treatments over a period of several months. That's no longer the case, thanks to porcelain veneers. Porcelain veneers are ultra thin shells made of translucent porcelain that can be bonded to your teeth for cosmetic purposes. Extremely versatile and durable, porcelain veneers are an excellent option whether you want a total smile makeover or need to cover a chipped tooth, mask a cracked tooth, or close gaps between your teeth. They require little to no prepping and can often be applied in just one dental visit!
Implant Crowns
While implants replace teeth, they are artificial and behave differently from natural teeth. A quick recap will be helpful in explaining why. A dental implant is a tooth-root replacement, to which an implant crown is attached. The crown is the only part you see in the mouth. The implant is placed surgically in the bone of the jaw to which it fuses in a process called osseo-integration ("osseo" – bone; "integrate" – to join or fuse). A great deal of thought, research and ingenuity has gone into dental implant tooth-replacement systems to make them as fail-safe as possible.
Clear Correct™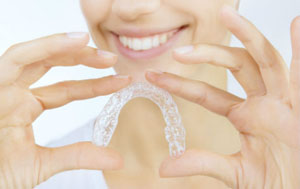 The Clear Correct™ transparent orthodontic aligner system is a comfortable, lifestyle-friendly alternative to braces. Practically invisible, these innovative clear braces are an ideal solution for people who want to improve the appearance of their smile without calling undue attention to their teeth in the process. Thanks to Clear Correct™ and similar aligner systems it's now possible to straighten teeth without braces, wires and brackets.
Unlike traditional wire and ceramic dental braces, which are "permanently" cemented in place, ClearCorrect™ clear braces use a series of custom-made removable aligners to straighten your teeth. Designed to work in stages, each transparent aligner moves your teeth just a tiny bit so that over time your teeth eventually straighten. In addition to improving the appearance of your smile, Clear Correct™ clear braces can straighten and align teeth that are crooked or turned. Clear Correct™ aligners work whether your teeth are crowded or spaced and can correct most overbites and underbites.